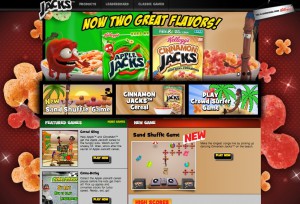 It's not quite in the category of marketing cigarettes to young teens, but the efforts by food and beverage companies to entice children to consume sugary breakfast cereals and soft drinks are highly effective, if not controversial.
Public health authorities have repeatedly warned that food marketing influences children's food preferences and diet, and contributes to the high rates of obesity. Trying to blunt criticism, some food manufacturers signed on to a voluntary code of ethics, the Children's Food and Beverage Advertising Initiative, promising to promote healthier food in its marketing to children; this pledge extends to their online marketing initiatives as well.
Turns out it has been a hollow pledge, according to a research team. Andrew D. Cheyne, Lori Dorfman, Eliana Bukofzer (Berkeley Media Studies Group), working with Jennifer L. Harris (Yale Rudd Center for Obesity and Food Policy), analyzed the techniques cereal companies used to engage children on websites, and reported their findings in the Journal of Health Communication.
The researchers point out that food and beverage websites deliver branded content to young people using a variety of tactics. Online video games, known as advergames, embed messages about the branded product into the game experience (studies have shown that the vast majority of children playing these games view them as entertainment and not advertising). Cross promotions connect movies or television shows to food products. Online ads and viral marketing techniques allow marketers to amass information about children and their social networks in ways that television marketing can only dream of.
To systematically assess the content on child-directed cereal websites, the researchers began with 26 branded websites generated from all cereals available at a major grocery store chain between October 2008 and March 2009, and then focused on 17 that targeted children directly. Three of the four main cereal manufacturers — General Mills, Kellogg's, and Post — were represented.
"Despite being in compliance with their own pledges, the major cereal manufacturers' promotional practices continue to exploit children's susceptibilities to marketing by advertising high-sugar cereals using highly engaging techniques."
Here's what they found:
There are three categories of websites: those with few interactive features; those that integrate multiple engagement techniques; and those that are like virtual worlds. "Even sites with a medium level of immersion offer children interactive experiences far more engaging than the 30-second passive advertisements found on radio, television, or packaging."

More than 80 percent of the sites featured games, the majority of which were advergames that carried product branding. Almost all advergames went beyond product display to using cereal as more than food, such as incorporating  cereal into the game as a piece of equipment. 

Ten percent of web pages had videos, including 10 TV commercials and 35 brand-saturated webisodes (animated serials that typically depicted branded spokes-characters). 

Twenty-nine percent included polls and/or quizzes to survey children about their personal preferences (a poll on Applejacks.com asked children what they thought spokes-character CinnaMon was missing about his home while he traveled to New York City).

Twenty-four percent carried online cross-promotions. 

Fifty-three percent included invitations to share the online experience with the child's friends (the Frosted Mini-Wheats' website included a picture of a cell phone, giving it the appearance of a text message, and asked the child to input his or her own, and friend's, name and email address).

Sites with the most sophisticated engagement techniques were the most heavily visited. Visits to the immersive virtual worlds of Millsberry.com and Postopia.com (neither is still active) were long lasting, averaging more than 20 minutes for children two to 17 years old.

Of the 14 sites that promoted a single product, 64 percent failed the Institute of Medicine's guideline for competitive school foods.
Clearly, the cereal manufacturers are doing a boffo selling job in the youth market, even better than fast food restaurants that have deeper pockets. As the researchers note, McDonald's alone had three websites for young people, "yet even the most engaging fast food website, HappyMeal.com, only occupied children 6.1 minutes on average—far below the 27-minute average of Millsberry.com."
Kids, and their parents, don't have a prayer.
Andrew D. Cheyne, Lori Dorfman, Eliana Bukofzer, Jennifer L. Harris; Marketing Sugary Cereals to Children in the Digital Age: A Content Analysis of 17 Child-Targeted Websites, Journal of Health Communication (18:563–582, 2013)